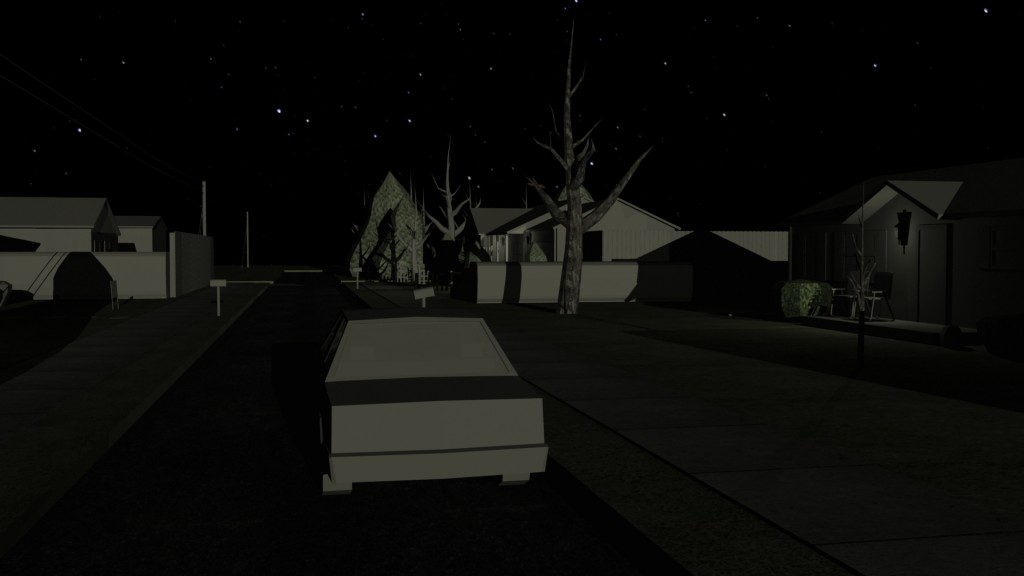 It's been awhile since I posted an update on my progress with Veil so I've deemed it necessary to fill everyone in. For the last couple months I've been focusing on getting the majority of the environments and all the objects/items/details within them modeled and put together. It's been a long process as there's a lot of little details I want to put in the game and it's setting so I haven't found a good opportunity to post an update on anything in particular.
The good news is once I have the first neighborhood area for the game completed, which, I'm working on now, the rest of the environments will go much more quickly as I'll be able to reuse many of the models and textures I'm creating now. The screenshot above is an early shot of the first neighborhood the player, James, will appear in. It's not a finished screenshot as some details are missing and much of the texturing is placeholders or not there altogether. I feel it does start to give off a good idea of the style of the environments however. As I get further along I'll start to post more complete screenshots of the environment.
In addition to working on the environments I've been working on my Unity coding skills as well as writing and recording more music for Veil. While I probably won't post updates on the coding I will be posting some more music from the game in the coming weeks.